Insurance Consultants Group was founded in 1999 when two agencies, owned and operated by Mark Singleton and Al Yeckel, combined.  Since then, our company has grown to over 20 agents and a fully licensed, seasoned staff with knowledge in multiple lines of insurance.  Our main office is located in Rocky River, Ohio, with two satellite offices in Columbus, Ohio and Westbrook, Connecticut.
Why Choose an Independent Agency?
ABOUT US
We Offer Personalized Service
One of the first things people want to know when shopping for insurance is – How much will this cost? We of course strive to offer you our best rate and one that will fit within your budget, our agency also believes it is important to make sure our clients are sufficiently covered. That means we will never cut corners on coverage, just to offer you a lower price.
Every client has a unique set of circumstances and as an independent agent, we take the time to listen and understand YOUR situation when recommending coverages and products.
As a client of Insurance Consultants Group, you will not be stuck on hold with an 800 number. You will have one or two main contact points that you will work with directly for all of your needs.
We Do The Shopping For You
Our agency has strong relationships with multiple carriers, which means we compare prices when quoting your policies. Beyond price, we also compare carriers based on the coverage they are providing and advise our recommendation based on your unique needs and household. All of our carriers are top-rated, with at least an A (Excellent) rating from A.M. Best.
Have multiple lines of insurance? Our carrier options mean we can find the most cost-efficient ways to bundle auto, home, business, life, and anything else you need to insure!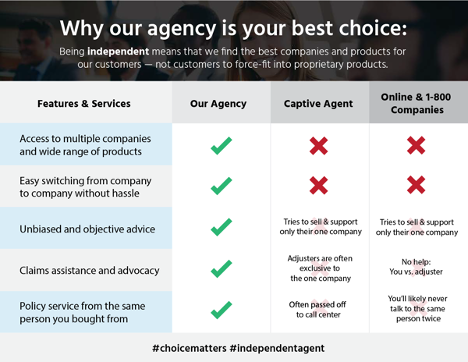 We Are Right Down The Road
Choosing a local independent agent means we are close by. Need to pick up a bond? We can have it ready and waiting at the front desk. Want to drop off a payment? We can process that in person for you. Have questions about your policy you'd like to sit down and discuss? Give us a call to make an appointment!
We Are Licensed Experts
Every associate, account manager, and member of our staff is a licensed insurance agent. Buying the right insurance can be a complex and confusing process. Our office has hundreds of years of combined experience so you can trust that we are offering you your best coverage fit.
We Are With You For The Long Haul
In time, your insurance needs will change. There are many different stages in life that can trigger new insurance needs, such as buying your first home, having kids, starting a business, finally buying that classic car you've been dreaming about for years. As an independent agency, Insurance Consultants Group helps you to find solutions to all of your needs over the years, while always looking out for YOUR best interest.
Insurance Consultants Group, LLC
Companies We Represent